High above the town of Nikko and at the end of a steep road with too many switchbacks to count, lies Lake Chuzenji. This is one of the must see locations when visiting Nikko National Park. This high mountain lake is surrounded by beautiful mountains and forests.
Lake Chuzenji with Mt. Nantai
The tallest mountain above the lake, and one of the most famous in Japan, is Mount Nantai, a dormant volcano. Lake Chuzenji was formed about 20,000 years ago after the eruption of the now dormant Mount Nantai. At least it was thought that Nantai was dormant.
A recent article in the Japan Times states that Nantai may still be an active volcano after experts discovered evidence of much more recent eruptions. The Japan Meteorological Agency will now have to decide whether to designate Mount Nantai as Japan's 109th active volcano.
This area is one of my favorite parts of Nikko. If you love mountains, forests, lakes, water falls, and high mountain meadows, then this is where you want to come. As usual, try and avoid coming here during holidays. A great time to come is during the Fall when the trees are changing colors but once again, thousands of other tourists will be coming here to see the Fall colors as well.
The road leading up to Chuzenji is called Irohazaka Winding Road. There are actually two roads, one going up and a separate Irohazaka road going down. This was done to keep opposite traffic safely separate due to how sharp the switchbacks are.
There are many waterfalls surrounding the lake including the famous Kegon Falls. Above the lake is Ryuzu Falls which I visited. There is a good viewing location below the falls as well as a small store for tourists. The falls are popular to photograph in the Fall when the leaves are changing colors.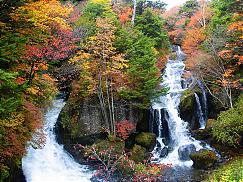 Ryuzu Falls
Lake Chuzenji also has long been popular among diplomats from foreign nations who built cottages surrounding the lake. Several nations still have cottages at Chuzenji including France and Belgium.
The drive up and down the mountain is certainly hair raising but definitely worth it. One thing I would love to do someday is ride my bike from the top all the way down to the town of Nikko. That would be a blast and better then any roller coaster ride.